"KINGDOM HEARTS III" Release Celebration! "KINGDOM HEARTS" SERIES + FFRK Collaboration Sweepstakes: Win a Set of "KH" Merchandise has started!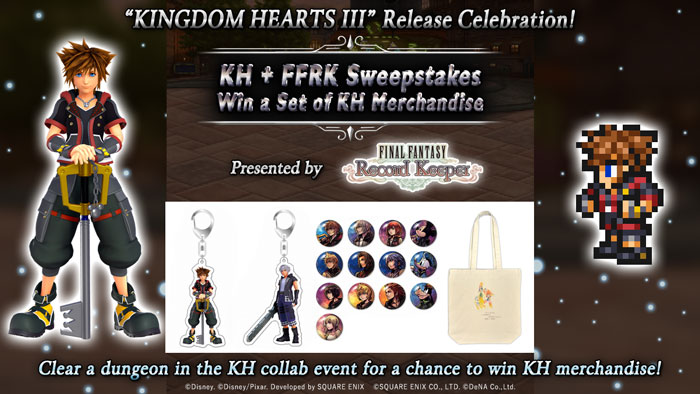 In this sweepstakes, 10 entrants will win a set of original "KINGDOM HEARTS III" merchandise. Please visit the sweepstakes site and enter the required information. As a condition to enter, a dungeon must be cleared in FFRK. Challenge the dungeon now!
Entry Period:
6:00 PM 2/25 PST - 5:59 PM 2/28 PST (2:00 AM 2/26 UTC - 1:59 AM 3/1 UTC)
Entry Condition:
Complete KH: Crumbling Island
* Complete the tutorial first to access this dungeon.
Prize Details:
Set of "KH" Merchandise
(Sora and Riku acrylic keychains, tote bag, Tin Badge Collection)
Visit the sweepstakes site NOW! #ffrkKH
https://www.surveymonkey.com/r/2RDSXB3
"KINGDOM HEARTS III" Official Website:
https://on.mbga.jp/2CEb8fg
FINAL FANTASY Record Keeper is available as a free download on the App Store for iPhone, iPad and iPod Touch and on Google Play for Android devices.