SQUARE ENIX today revealed that their fan-favorite mobile RPG, FINAL FANTASY BRAVE EXVIUS, has been downloaded more than 48 million times worldwide! To celebrate, and thank players for their continued support, new summons, a login bonus and more will be available for a limited time.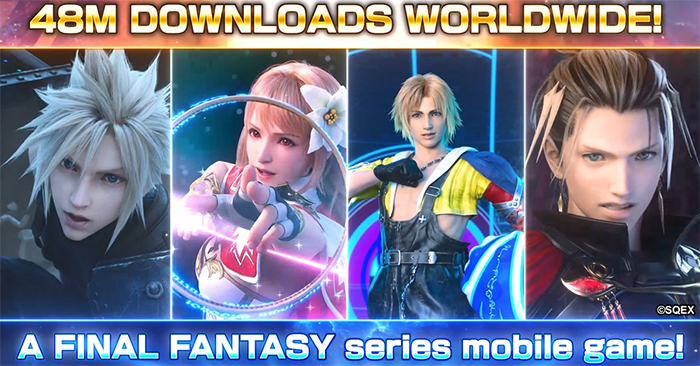 Players will get to experience the following during the limited-time 48 Million Downloads Campaign:
NV Guaranteed Weekly Free 10 Summon – Until March 29, players can summon from this banner and obtain up to 60 units total during the campaign period.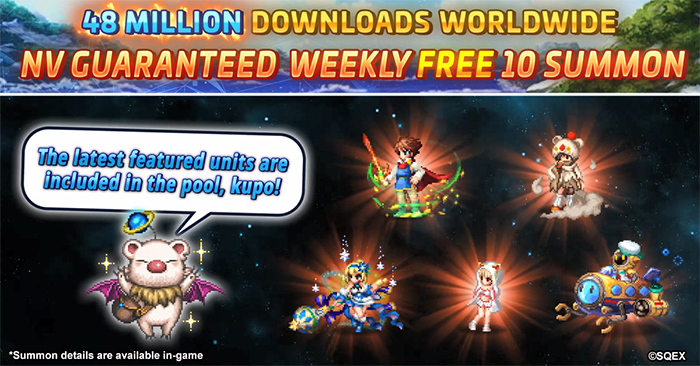 48M Downloads Login Bonus Part 1 & 2 – Until March 16, players can receive up to 4800 lapis by completing both parts of the Login Bonus, and receive a variety of exciting rewards, such as NV Guaranteed 10+1 Summon Tickets (3★/4★/5★/NV), Guaranteed Ticket (5★/NV), Mystery Crystal and more, simply by logging in daily.
NV Guaranteed Special Step-Up Summon – Until February 8, a limited-time Special Step-up Summon will be available, in which players can obtain one Neo Vision unit with each step by performing this featured summon. Additionally, players can obtain a total of ten NV Fragment Select Tickets (48 Million Downloads Celebration) from steps 4, 5, and 6, along with one NV Unit Select Ticket (48 Million Downloads Celebration) on step 6. This special 6 step-up Summon can be performed only once.
Additionally, players have the chance to summon a new unit, Vacation Voyager Fina, which has a beautiful CG Limit Burst. Players have the chance to summon her and obtain the Vision Card "Coral Forest Getaway" by awakening her to EX+1 and EX+3.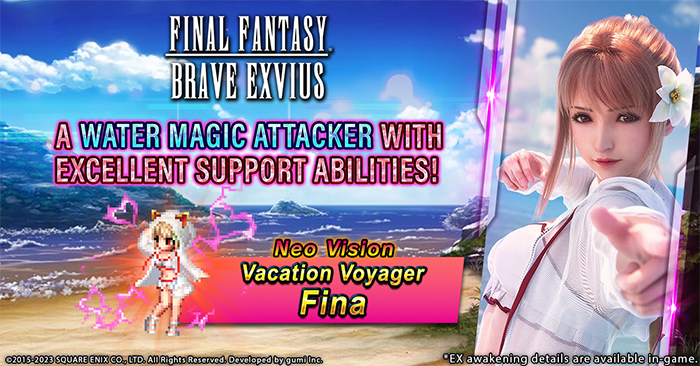 FINAL FANTASY BRAVE EXVIUS is available now as a free-to-play app (with in-app purchases) through the App Store, Google Play and on the Amazon App Store.
This title is developed as a collaboration between SQUARE ENIX and gumi Inc. (developer of the hit title Brave Frontier). The game is available in six languages: English, German, French, Spanish, Chinese (traditional) and Korean.
FINAL FANTASY BRAVE EXVIUS official site
FINAL FANTASY BRAVE EXVIUS Twitter
FINAL FANTASY BRAVE EXVIUS Facebook