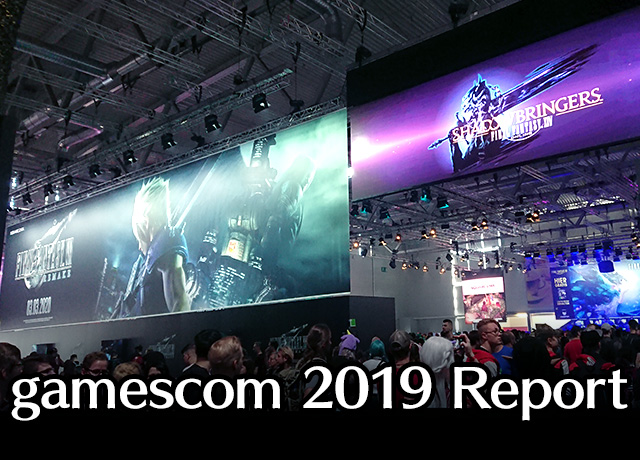 Guten Morgen, FINAL FANTASY fans!
The Japan-based FINAL FANTASY Portal staff were lucky enough to visit Gamescom, which was held from August 20 to 24 in Cologne, Germany! In case you didn't know, Gamescom is Europe's biggest gaming convention, and SQUARE ENIX showed up in style for 2019.
We landed in Cologne the night before the first day of the con, and look who greeted us upon arrival: none other than Cloud!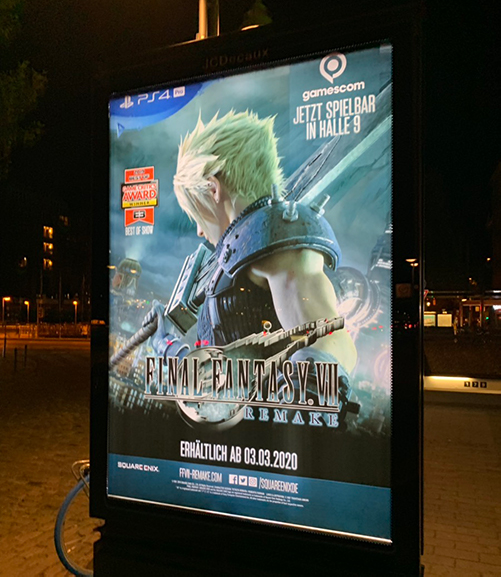 You wouldn't believe the amount of advertisements we spotted. It was like the whole city was getting in on the gaming festivities!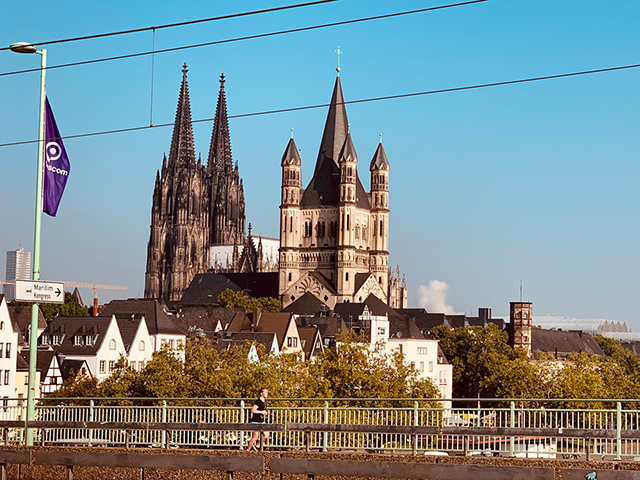 We woke up early on the first day, and decided to walk to the convention center. It was a pretty easy stroll, made even easier by all the Gamescom flags hanging off every streetlamp. There was no way we could get lost!
Despite being the middle of summer, the weather was great! The afternoons got pretty hot, but the mornings and nights were absolutely perfect. And the best part was that we barely sweated at all! Hurray for dry climates!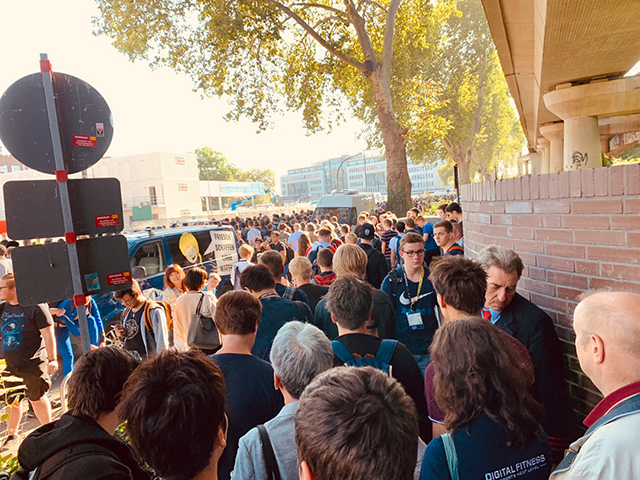 Behold, the crowds at the train station closest to the convention. Just look at all these people!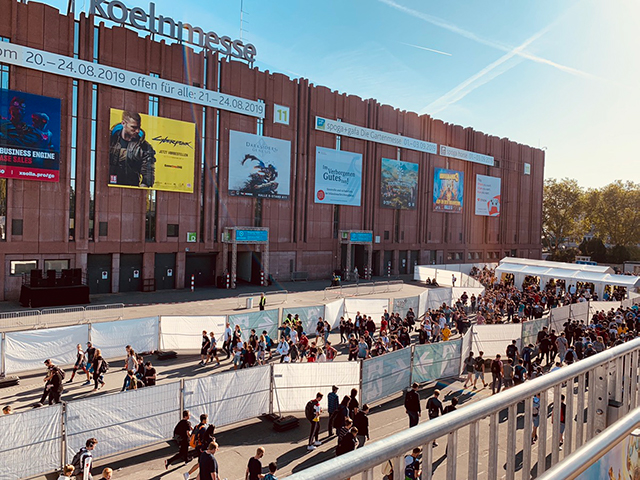 Ta-da! The Gamescom convention center! It's absolutely massive...which is good, because there were a lot of eager guests waiting to get in!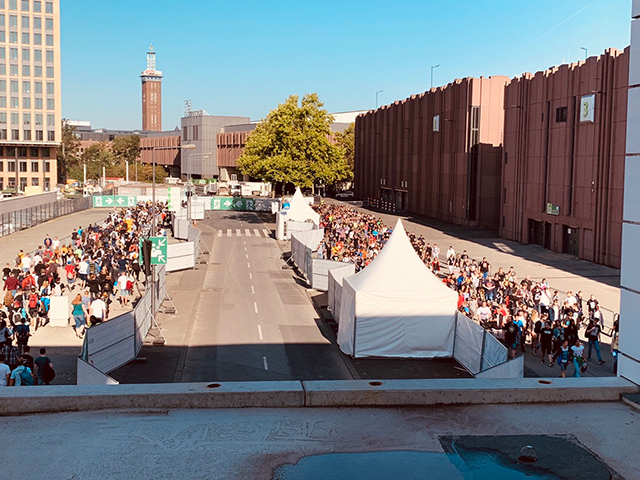 This was the scene around the building. People just kept coming and coming...and this was the con's business day! What must it look like on days open to all visitors!?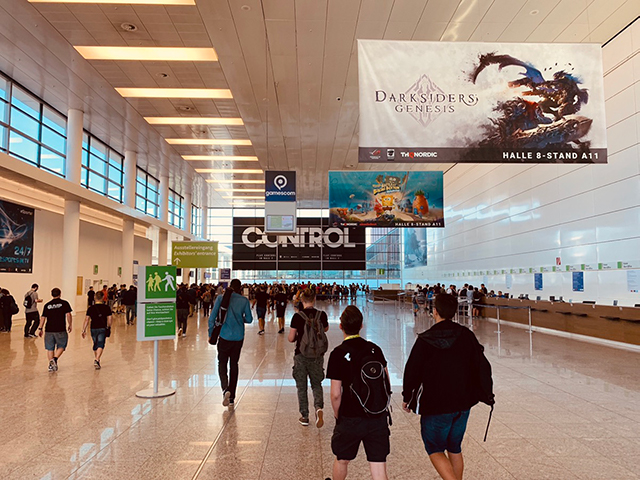 Just look at how big this place is! With space like this, you could do cartwheels down the aisles without hitting a single person. No wonder nobody was running or shoving!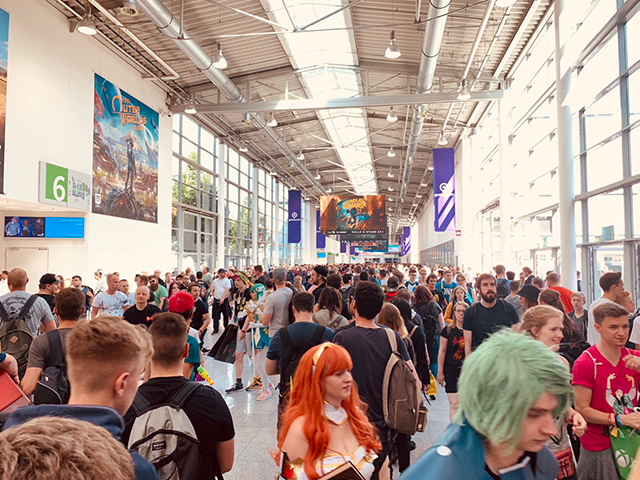 First order of business: the SQUARE ENIX business check-in...
...Which was so far away it may as well have been on another planet! I admit we got a little lost. Note to any future attendees going in groups: try to wear something that stands out. We wore basic dark colors and nearly lost each other in the crowds!
At last! We made it to the business kiosk in one piece! And what a fancy kiosk it was.
There were some super-secret negotiations and interviews going on inside, so we refrained from snapping any photos. We wouldn't want something to leak, you know! After a quick respite, we braced ourselves for the show floor.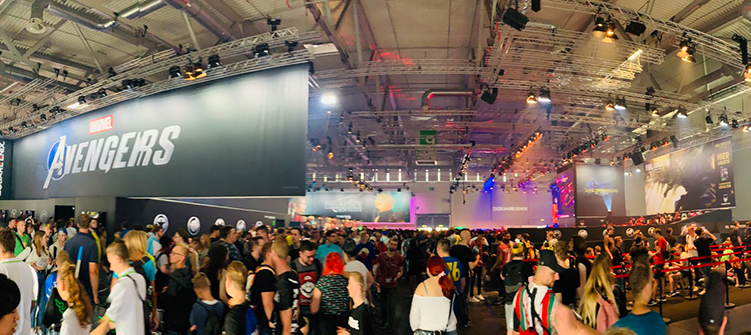 Holy. Cow. The SQUARE ENIX booth was enormous. Talk about making a statement!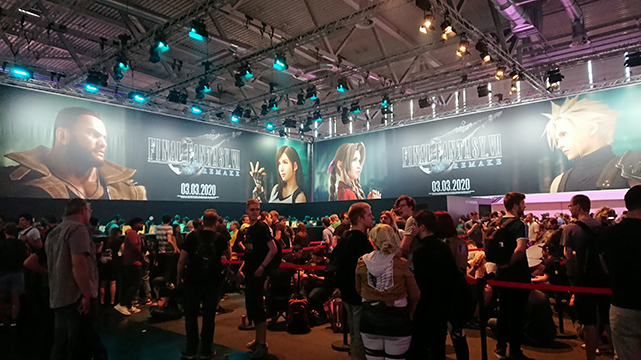 Here's the area dedicated to FINAL FANTASY VII REMAKE. Again, lots of people.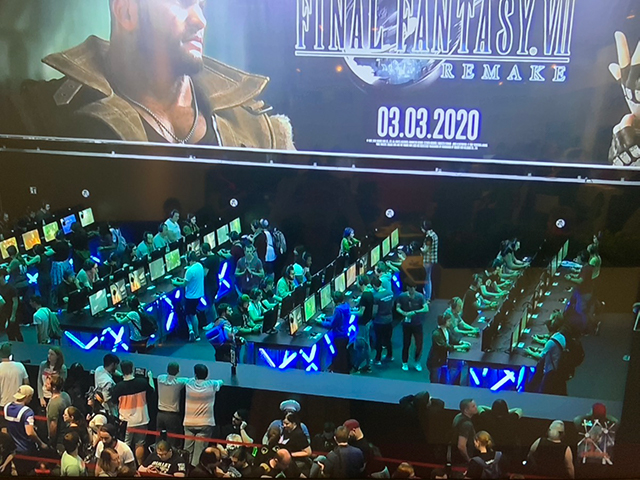 So many demo kiosks...!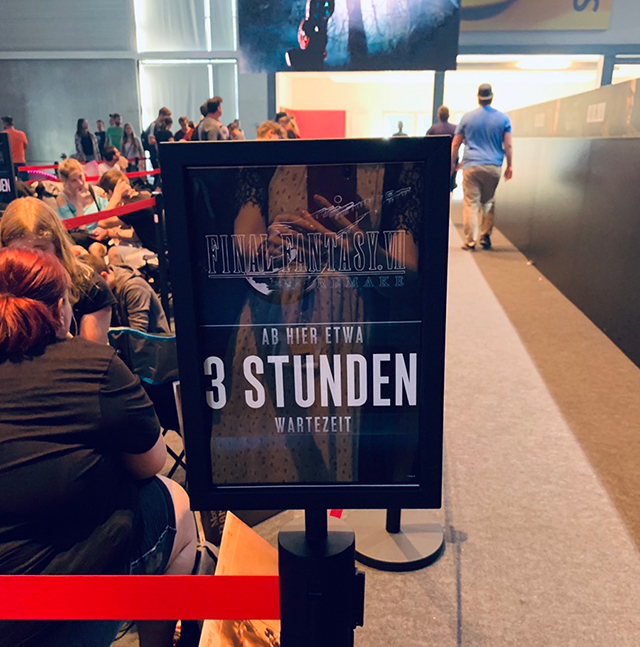 The wait times were out of this world. I can't speak a word of German, but I'm pretty sure "Stunden" doesn't mean "minutes"! Visitors clearly expected the lines, though. Some people brought folding chairs!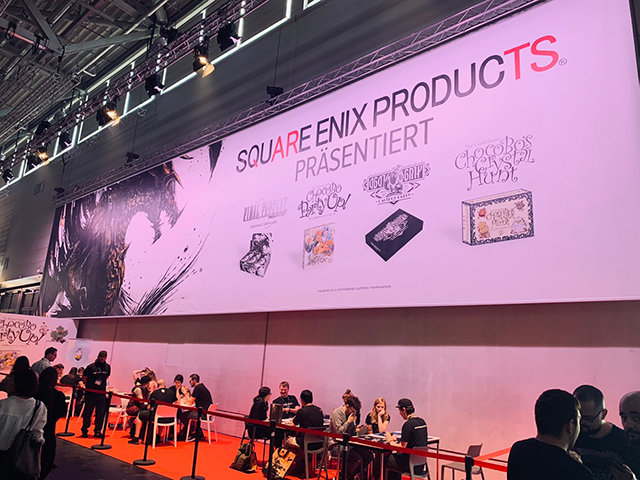 Our board games were present as well, along with the FINAL FANTASY TRADING CARD GAME. We had tables set up where attendees could play!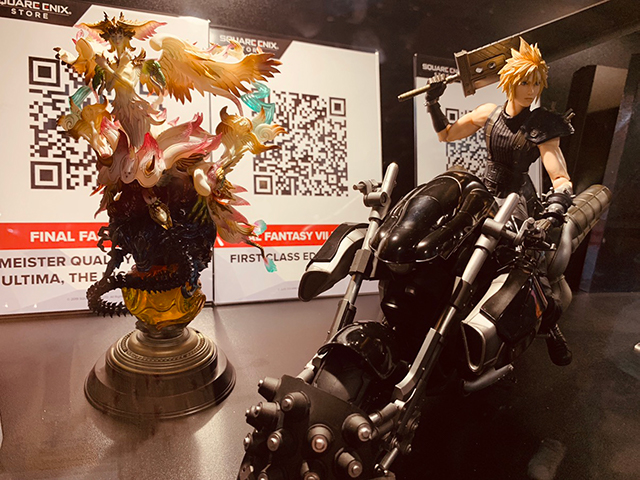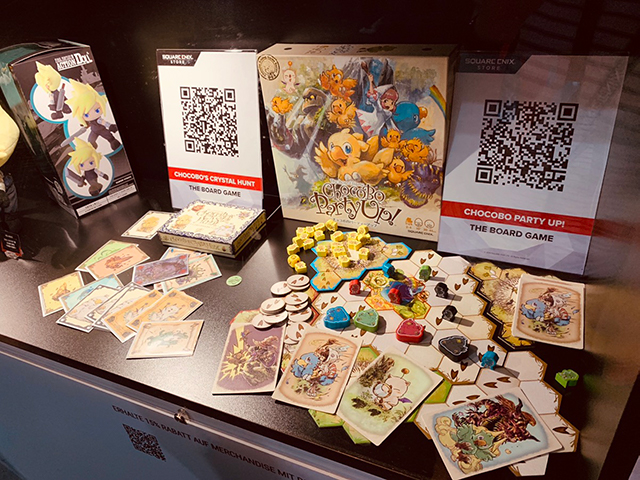 Nearby, artfully arranged board games and figurines were on display for guests to ogle.
Every piece of merchandise also had a QR code that would take you to the item's online product page. Definitely a convenient feature!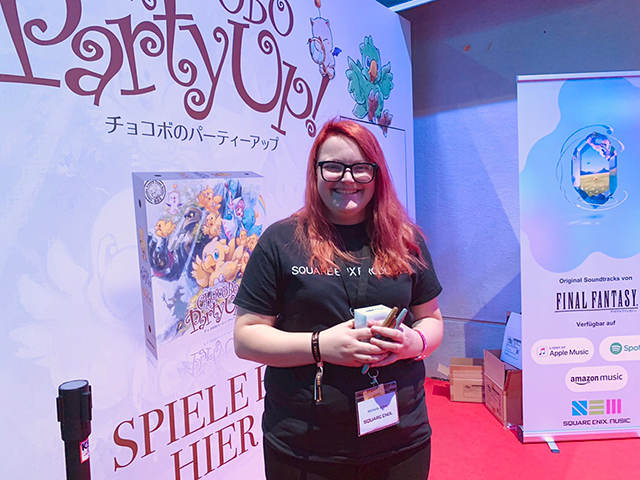 Here's one of our charming staff members giving us a big smile. She's a huge FINAL FANTASY fan, by the way! Safe to say she's in good company.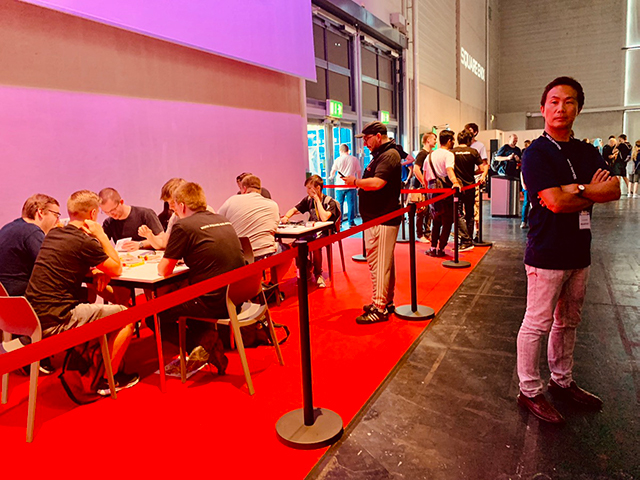 Here's Itahana-san trying to stealthily watch a group of people playing the board game Chocobo Party Up. We see you, Itahana-san!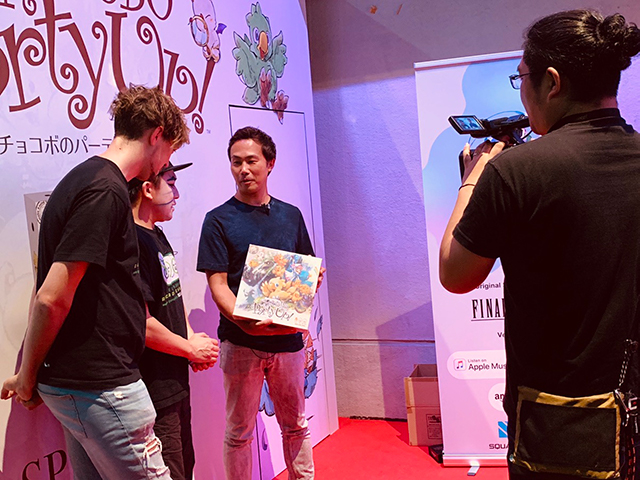 EDAMAME Arcade Channel stopped by our booth to interview Itahana-san. Poor Tom and Kabukin had to practically shout to be heard over the noise of the con!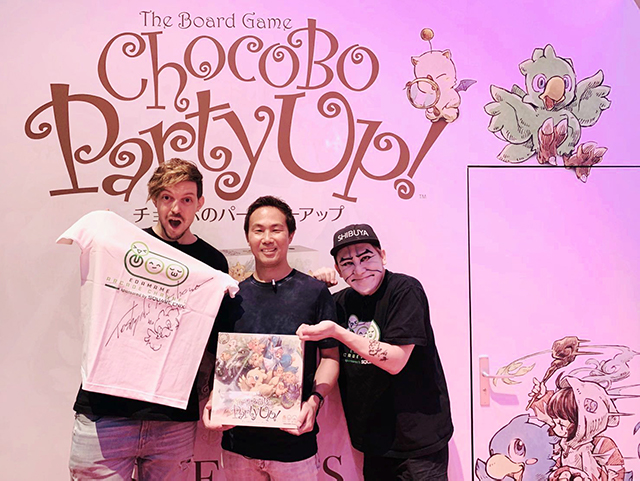 A quick photo for posterity. Thanks, EDAMAME Arcade Channel!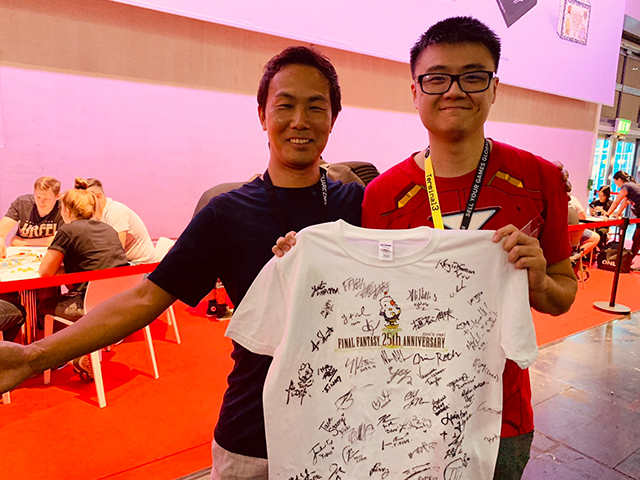 After the interview, a fan came up to Itahana-san asking if he could autograph this incredible t-shirt. Just look at all those signatures! That's amazing! (Picture posted with his permission.)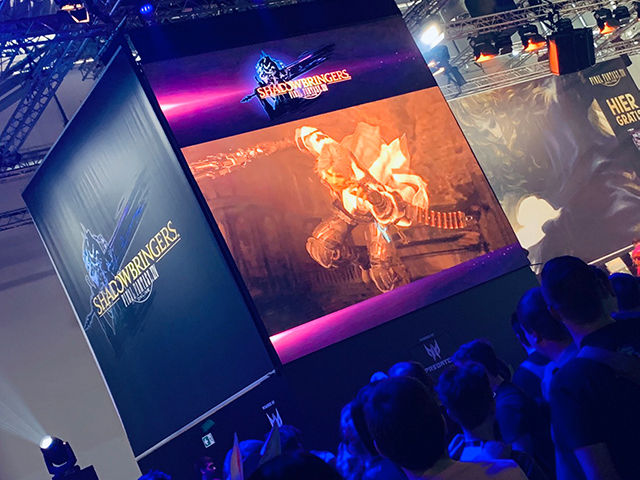 Backtracked a little bit to the FINAL FANTASY XIV area, where we found a gargantuan screen smackdab in the middle of the booth. Thancred, on that big TV...? *chef kiss*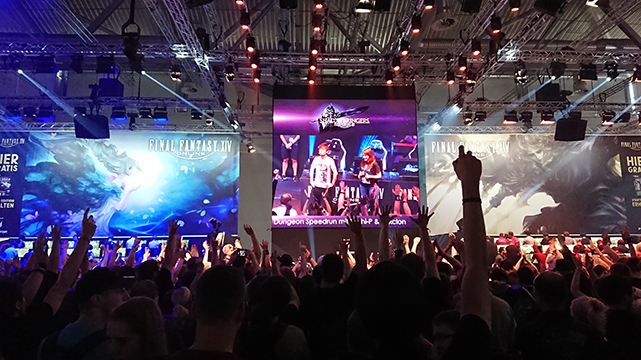 Producer and Director Naoki Yoshida took the stage at 3:00 p.m. to frenzied excitement. Yoshi-P is a legend in Germany, clearly, because the crowd was chanting "YOSHIDA"! Unfortunately, the wall of screaming fans prevented us from getting closer to the stage...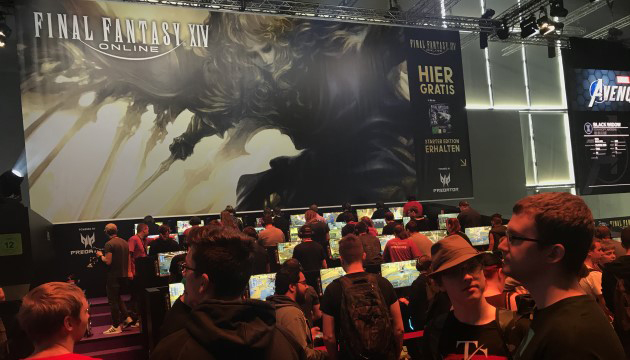 Here we have zealous groups of Warriors of Light going toe-to-toe against Titania and Innocence in the demo area!
And that's a wrap on our report from the business day at Gamescom!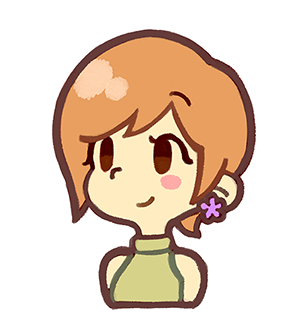 (Article by RA)