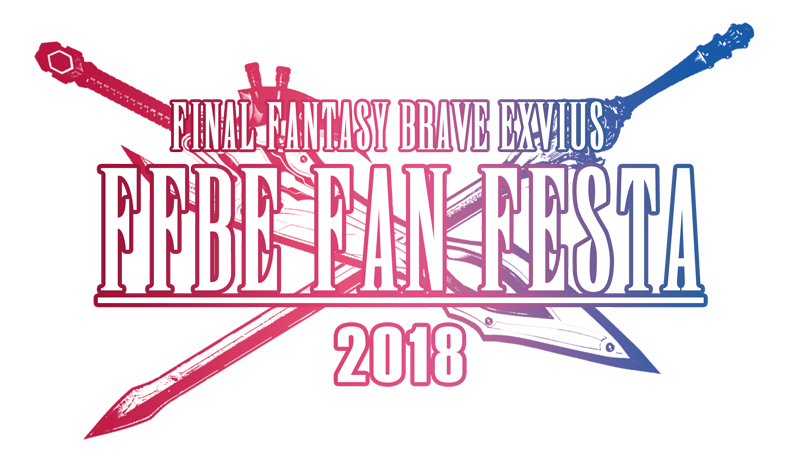 In celebration of FFBE Fan Festa 2018, we are pleased to announce the Fan Festa 2018 special unit: Aurora Fryevia! Check out this video message from Global Producer Hiroki Fujimoto for more details!
URL:
https://www.youtube.com/watch?time_continue=3&v=GtJ-KN3jaZY
Inspired by fan-favorite global exclusive, Fryevia, Aurora Fryevia is a powerful 5★ base unit that can be awakened to 7★. All FFBE Fan Festa 2018 ticket holders who attend the event in Long Beach will be the first* to receive this unit, as well as one Aurora Fryevia's Prism to awaken her!
AURORA FRYEVIA – UNIT DETAILS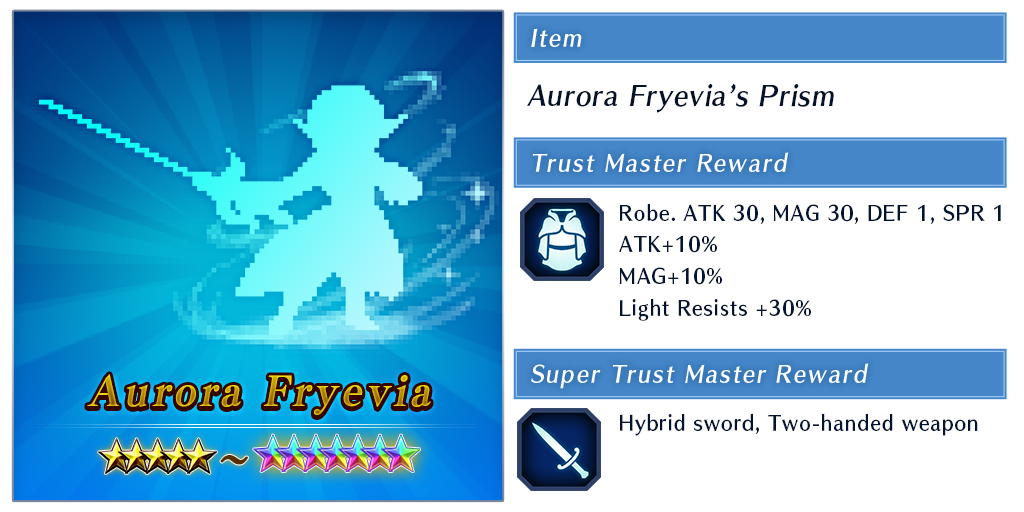 Aurora Fryevia boasts an array of light elemental abilities, and can use W-Ability to unleash two of these attacks in a single turn. She will also share some abilities with Fryevia, allowing them to chain together. Furthermore, Aurora Fryevia will have access to an additional ability when in the same party as Fryevia!
* Please note that FFBE Fan Festa 2018 ticket holders must attend the event in person and have provided a valid Player ID at time of ticket purchase to be eligible to receive the in-game rewards. Entering an incorrect player ID may result in non-delivery of the rewards. The offer is limited to one (1) 5★ Aurora Fryevia and one (1) Aurora Fryevia's Prism per account. Additional units or prisms will not be provided to an account that has already received these items, even if multiple tickets are purchased.
** Aurora Fryevia will be added to the rare summon pool and available to all players following a set period of time after the conclusion of Fan Festa 2018. Details regarding the distribution of Aurora Fryevia and the Aurora Fryevia's Prism to FFBE Fan Festa 2018 attendees will be announced at a later date.
---
Mark your calendars for FINAL FANTASY BRAVE EXVIUS Fan Festa 2018!
Join the global community for 2018's only Fan Festa for two full days of developer panels, showfloor activities, live music, and more as FINAL FANTASY BRAVE EXVIUS celebrates its 2nd Anniversary!
This year's Fan Festa will be bigger and better than ever before. Don't miss out on your chance to meet the faces behind FFBE in this rare, once-a-year opportunity!
Event Info
Location:
Long Beach, CA
Long Beach Convention & Entertainment Center
Schedule:
Saturday, December 8, 2018 – Doors Open 9:00 a.m. / Event Activities & Panels 10:00 a.m. to 8:00 p.m. (PST)
Sunday, December 9, 2018 – Doors Open 9:00 a.m. / Event Activities & Panels 10:00 a.m. to 8:00 p.m. (PST)
ACTIVITIES
SHOWFLOOR ACTIVITIES
In addition to stage panels and activities, FFBE Fan Festa will also have many exciting activities attendees can experience on the showfloor of the Long Beach Convention Center Arena! Join other FFBE fans to take on various challenges and games. Stay tuned for more information on what awaits!
PANELS
Get an exclusive look at the forces behind FINAL FANTASY BRAVE EXVIUS!
Producers Kei Hirono and Hiroki Fujimoto will be joined by other members of the FFBE development team at Fan Festa to talk about how they help create the game on special developer panels. Get a behind-the-scenes view on how many different parts of the game are brought together to shape the world of Lapis!
New Information Panel
It wouldn't be

FFBE

Fan Festa without a first look at the latest updates coming to the game! Only by attending will you discover what awaits!
ART PANEL
Learn how the

FFBE

team devises original characters for the game and creates the stunning pixel art that bring them to life. See the methods behind turning FINAL FANTASY characters from 3D models into their pixelized forms, and how pixel art has evolved from the original FINAL FANTASY.
Battle Design Panel
Learn how the developers design units, their approach to chaining, how they determine which units receive global upgrades, and much more! Battles wouldn't be complete without enemies--get a first look at how powerful foes are brought from the drawing board to the battlefield.
Story and Lore Panel
A detailed look into the

FINAL FANTASY BRAVE EXVIUS

story, including a deep dive on the origins and evolution of the story that shaped the world of Lapis we know today. Hear straight from the development team about all aspects of

FFBE

lore!
SPECIAL GUESTS
Shaly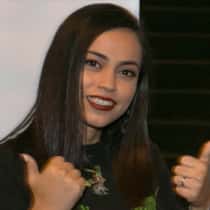 Shaly works as part of the FINAL FANTASY BRAVE EXVIUS Team at gumi for the global version of the game, and serves as a host for the videos on the game's official YouTube channel. As a huge fan of the game, she loves meeting other avid players from all over the world. She also hosted the 2017 New York and Los Angeles FFBE Fan Festas, and is excited to see everyone again this year!
Check out the MC Reveal trailer on Youtube:
https://www.youtube.com/watch?v=LMocw_OPGo8
Claic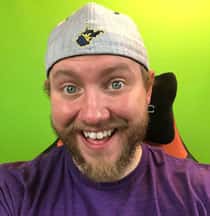 Claic is a dedicated FINAL FANTASY BRAVE EXVIUS streamer, who regularly covers unit reviews, playthroughs, and summoning pulls on his YouTube and Twitch channels. In addition to mobile games, he enjoys anime, MMOs, RPGs, Marvel/DC, and puzzle games. Claic joined in hosting the 2017 New York and Los Angeles Fan Festas, and is looking forward to meeting everyone this December in Long Beach!
Check out the MC Reveal trailer on Youtube:
https://www.youtube.com/watch?v=V4bqqHOiSOc
GIVEAWAYS
SPECIAL IN-GAME ITEMS & REWARDS
Join other players and earn fabulous in-game rewards at FFBE Fan Festa 2018!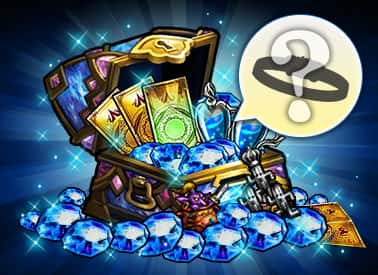 All players who attend FFBE Fan Festa 2018 will receive a special in-game item before anyone else!
GOODIE BAG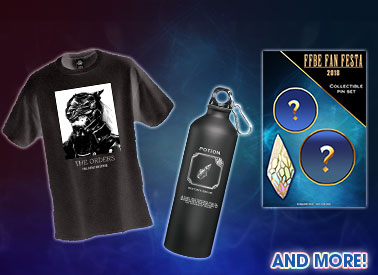 A special set of FFBE Fan Festa 2018 gifts await all who attend the event!