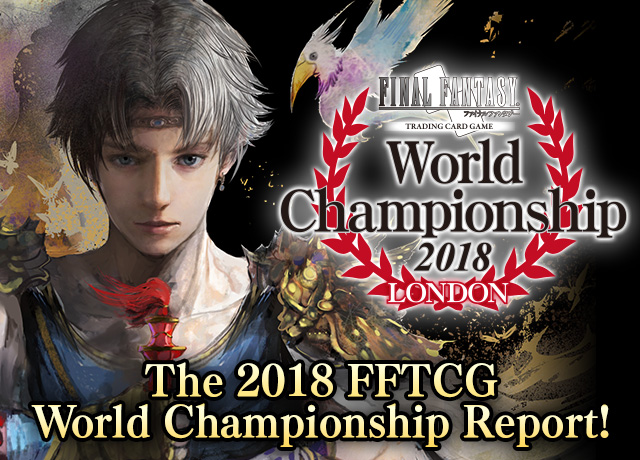 The second world championship of the FINAL FANTASY TRADING CARD GAME was held in London, England! Thirty-two contenders from across the world made their way to the preliminaries and the former World Champion Tobi Henriet was also invited to defend his title.
Opening Ceremony
The two-day tournament was held over the weekend with the opening ceremony on Friday before the first big day.
Larry Sparks, Executive Director, Marketing of Square Enix, Ltd.,/Inc., and Mr. Matsuyama, head of Merchandise, spoke a few words of encouragement.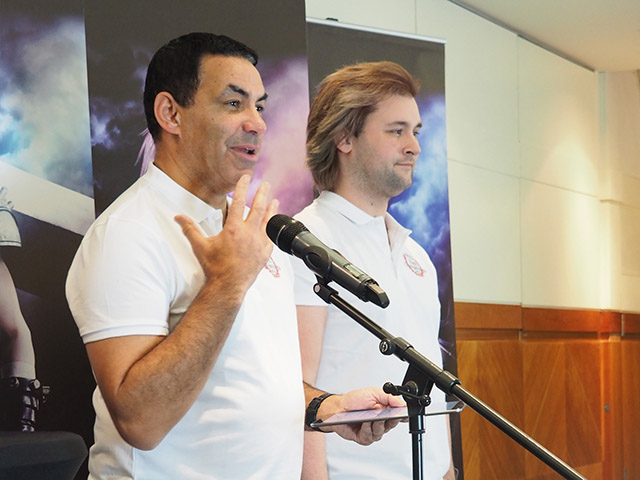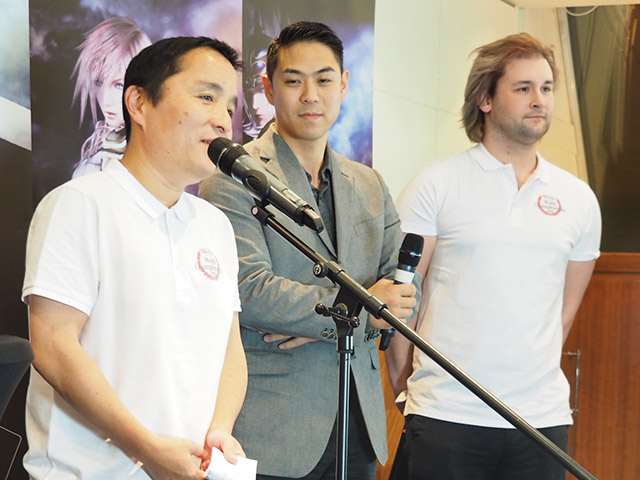 The players (List of Players) were then introduced, followed by a few words from Mr. Kageyama, producer and director of FFTCG. In his speech, he stated that what he really wants is for everyone to have fun at this tournament.
The ceremony was followed by a reception party that kicked off with an FFTCG and FF-based quiz.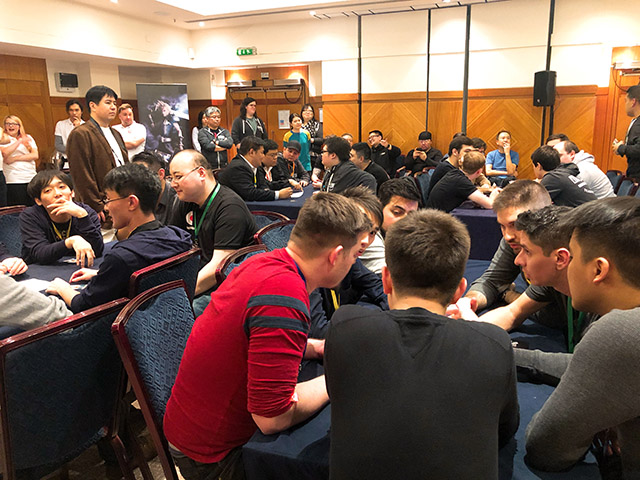 The questions were more difficult than expected! These are some examples.
How many Enemy Skill materia can you obtain in

FFVII

?
Moogles appeared for the first time in which FF title?
In which title do playable female characters outnumber male characters:

FFV, FFVII, FFX

, or

FFXIII

?
Afterward, the players mingled and then rested up for the big day.
Day 1: Preliminaries
The world championship begins! Unlike yesterday, the mood is quite serious.
▲ The trophies given to the top three players
With the Swiss-system tournament, all players would play a total of five rounds. The winner of each round has to win 2 matches in this "best of three", so it was possible that players may play a maximum of fifteen matches! With rounds that long, maintaining focus is essential.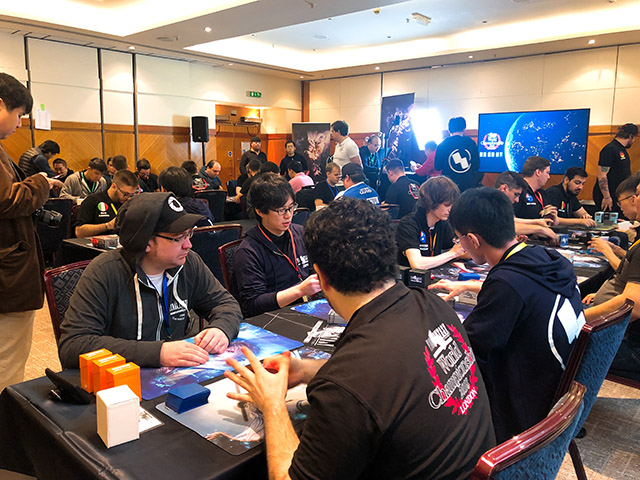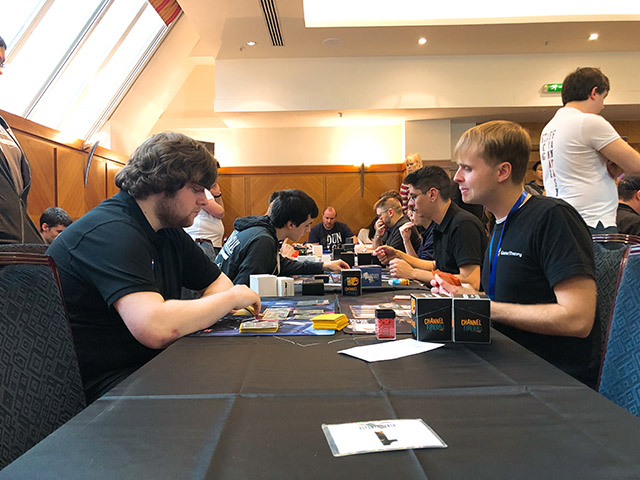 The tournament was streamed on Twitch, complete with live commentary of the feature table, deck analysis, players interviews, spoilers and more.
Check out the stream here.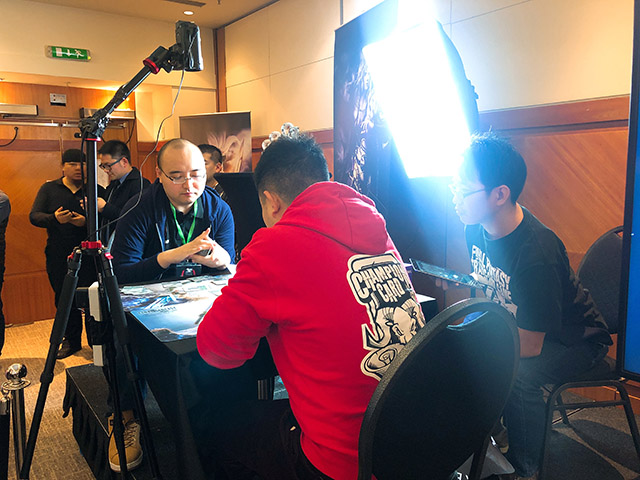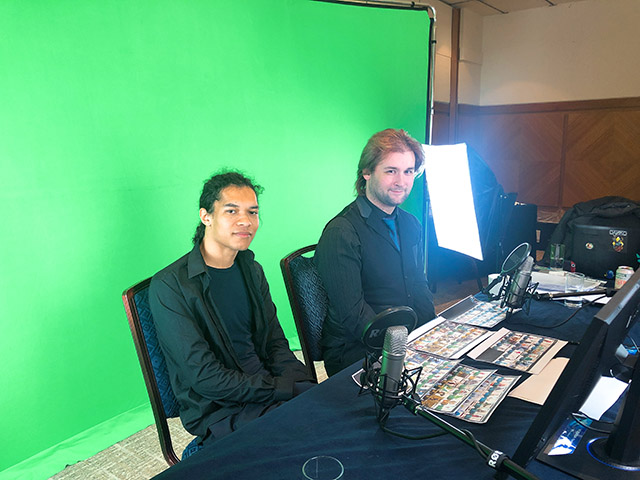 After a day of tough matches, these top eight players made it to Day 2.
1st: Jamie Faulkner - UK
2nd: Taiki Harigai – Japan
3rd: Hunter Nance - US
4th: Josh Ge - Singapore
5th: Luis Bardon-Burnett - UK
6th: Alex Hancox - UK
7th: Jason Zhe - Australia
8th: Tobi Henriet - Belgium
Day 2: Finals
Day two of the world championship begins! The bracket looked like this.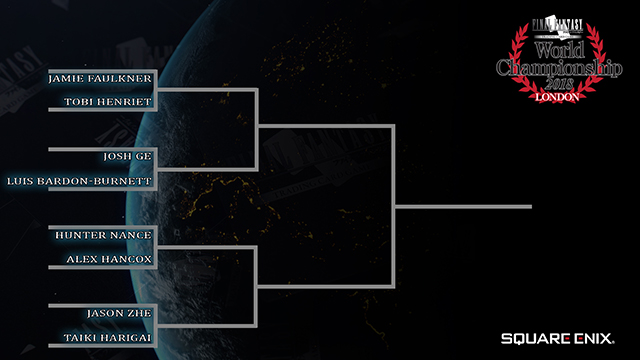 The first feature-table match was compelling, with Tobi, last year's champion, playing against Jamie, the top player of the top eight.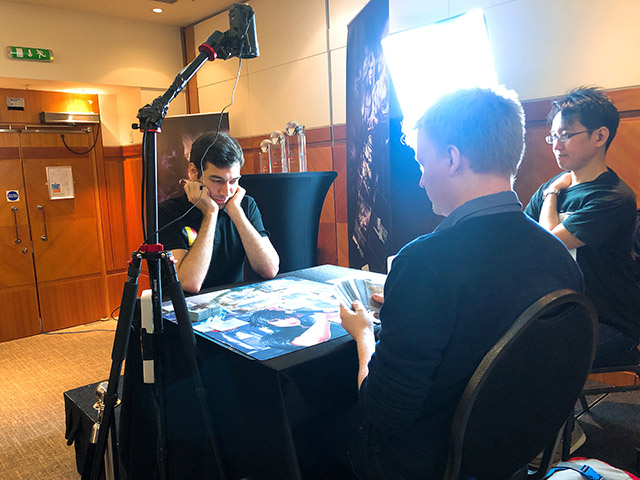 After a nail-biting match, it was Jamie who moved on to the semi-finals.
The final match was played by two local players, Jamie and Alex.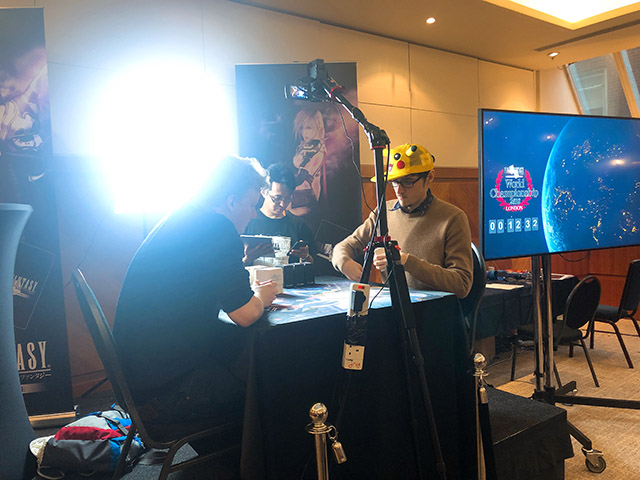 After two long days of competition, Alex emerged the victor!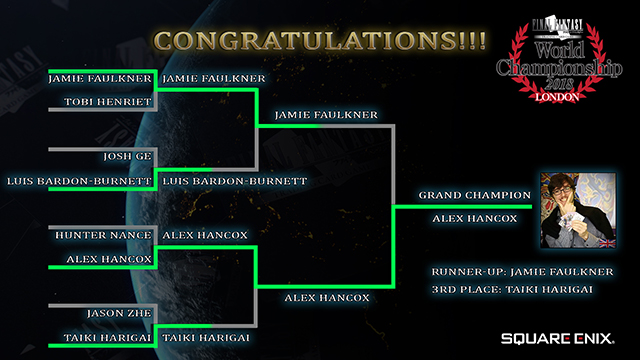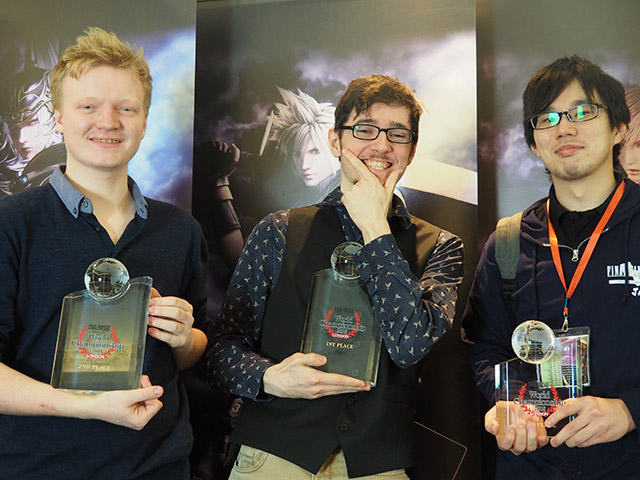 ▲ (Left to right)
Jamie (Second place), Alex (First place), Taiki (Third place)
The results were as follows.
1st Place: Alex Hancox - UK
2nd Place: Jamie Faulkner - UK
3rd Place: Taiki Harigai – Japan
Best 8
Luis Bardon-Burnett – UK
Hunter Nance - US
Josh Ge - Singapore
Jason Zhe - Australia
Tobi Henriet - Belgium
Closing Ceremony
Square Enix Executive Officer Mr. Osaki gave a speech, announcing that next year's tournament would be held in the US.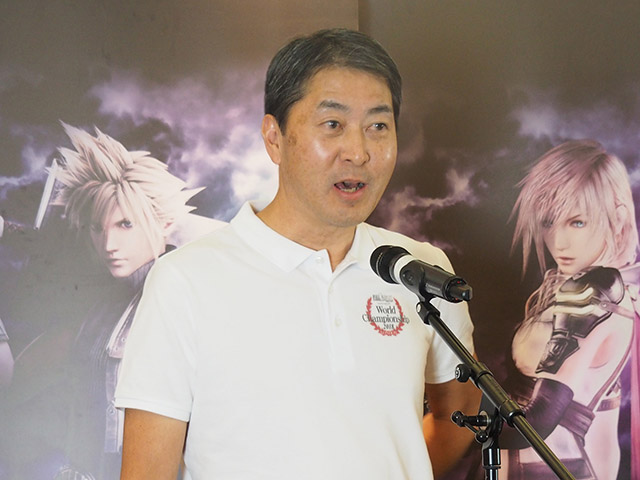 Trophies were awarded to the top three players, and Mr. Kageyama gave a closing speech stating that despite only one player being crowned champion, everyone who made it to this tournament should be proud.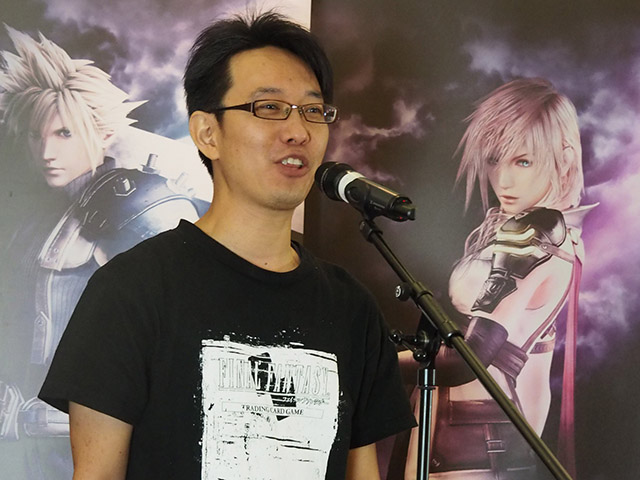 The final announcement was the reveal of the 2019 FFTCG fan festival and with this, the 2018 World Championship came to an end.
Interview with the World Champion
We asked the winner, Alex, about FFTCG's appeal.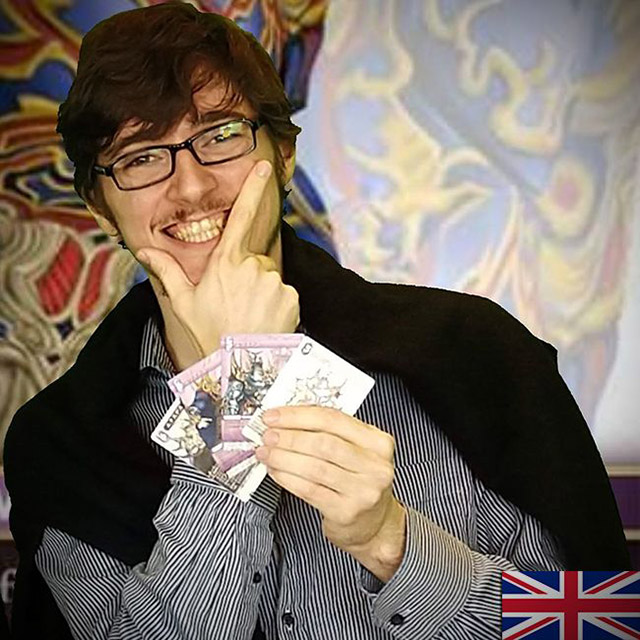 —What made you start playing FFTCG?
I had been playing Yu-Gi-Oh!, the card game, but I was looking for something new to play. I liked the FINAL FANTASY franchise already, so I thought I'd give it a go.
—So you knew the franchise already. What games have you played?
I started playing the series when the PlayStation 2 came out, so I played FINAL FANTASY X and onward. After that, I went back and played some of the older games as well. FFXII is my favorite; I really like the Shakespearean theme and Balthier―he's one of my favorite FF characters―and I just really enjoyed the gameplay and its battle system that was different than the others in the series.
—How do you practice?
I usually practice twice a week. Once on a Friday in a pub with some of the local guys, and on Sunday, at my local club, the Brotherhood. Outside of that, I don't practice apart from thinking about deck composition.
—What is the charm of FFTCG?
The development is very much based on being able to use whichever character you like, and there's always a way to work them into the deck or build a deck around them. The mechanics of the card game are complex, but very rewarding. When you win a game, you have to work for it, and I think people who like and understand these more complex games will really appreciate it. The community as well, it's fantastic. Better than any other card-game community because it's a lot more mature; most players have been fans of the titles since they came out. It's appreciated to be surrounded by people who are so warm and friendly and who want to be there to socialize.
—Thank you so much for your time!
Thoughts from Mr. Kageyama
We asked Mr. Kageyama what he thought of the 2018 World Championship.
The 2018 World Championship
The second world championship was held in London, England, on November 24 and 25. First and foremost, I'm relieved that this second tournament, as well as the first one, went smoothly. As I stated at the venue (I hope everyone understood my English), I'm grateful for the players who competed, the entire staff, and players and fans of FFTCG.
There were a lot of great players from Europe, especially England. Three players in the top four, including the winner Alex, were from the UK. It must have been quite a proud moment for them. I imagine these three will be leading the FFTCG movement for a while. However, I felt less of a disparity overall between players from different regions compared to last year. The best eight were from various regions such as Europe, North America, Asia, and Oceania, and everyone's decks and strategies seemed to be of nearly equal standing. I felt it through participating in Gunslinger [an event in which players can challenge the dev team], and I feel it was also proven during this tournament.
With that said, what impressed me wasn't the players' decks or strategies; it was their focus. I was the table judge for all of the feature table matches at this tournament, and it was the most exhausting experience I've ever had as a judge. This is coming from someone who's been an FFTCG judge even before it came out. As soon as the players sat down at the table, the game was on. They were completely focused, never letting their guard down for an instant. It created an atmosphere so intense that even I was nervous, as if I was playing with them. I'd never seen or experienced anything like it before. I was in the midst of the best, and I was in complete awe. I can only imagine how satisfied and exhausted the players were after their matches. I was thrilled to be part of such an exciting global tournament, and I was sad to see it come to an end.
As announced, the next tournament will be held in the US next year. I know that the matches will be just as intense as they were this year. For those of you reading this, you have a chance to see this for yourself! Why not take a shot at a chance to compete on a global scale? I hope to see you there next year.
---
It looks like things will continue to heat up! And that's all for the 2018 FFTCG World Championship report!
---
Answers to the FF quiz above:
How many Enemy Skill materia can you obtain in

FFVII

?
Four
Moogles appeared for the first time in which FINAL FANTASY title?


FINAL FANTASY III

In which title do playable female characters outnumber male characters:

FFV, FFVII, FFX

, or

FFXIII

?


FINAL FANTASY V
What is
FFTCG

?

FFTCG is a one-on-one tactical card game featuring FINAL FANTASY characters and summons. Not only is there fun in collecting cards featuring familiar faces, the main draw of the game is the simplicity of the rules combined with the complexity of the gameplay. The art drawn for the game by famed illustrators is also a popular aspect of FFTCG!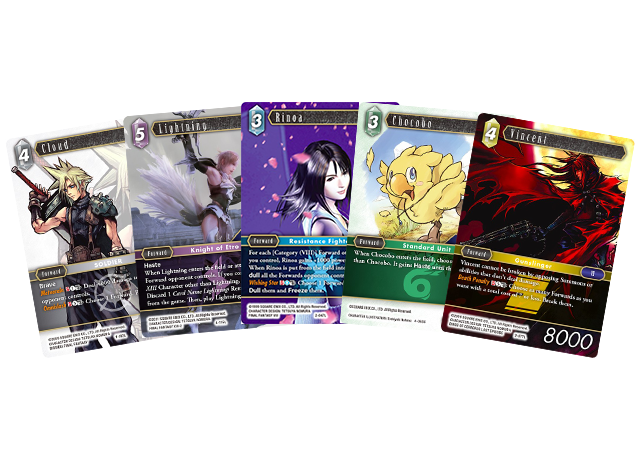 Find the store nearest you carrying FFTCG using our store locator!
https://fftcg.square-enix-games.com/na/page/where-to-buy
Play the FFTCG tutorial:
https://fftcg.square-enix-games.com/na/page/tutorial
Read the interview with the FFTCG producer here!