"KHIII" Release Celebration! "KH" + FFRK Collaboration is Here!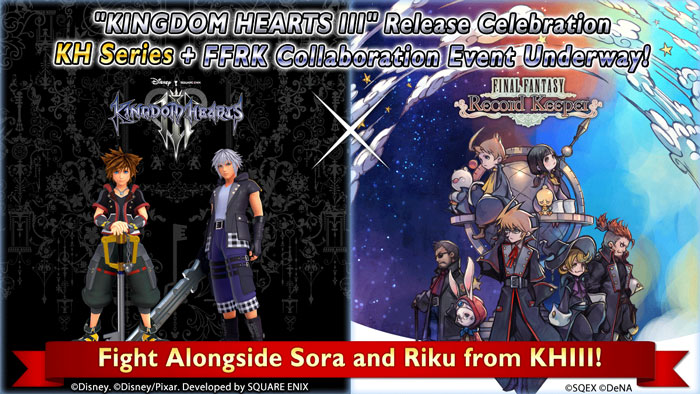 To celebrate the release of "KINGDOM HEARTS III", FINAL FANTASY Record Keeper is holding a collaboration event with the "KINGDOM HEARTS" series!
During this event, players will be able to take on various dungeon stages themed from KINGDOM HEARTS, KINGDOM HEARTS II, and KINGDOM HEARTS III.
Players will get the chance to relive the history of each KINGDOM HEARTS game, taking on enemies from the series, seeing artwork displayed as dungeon backgrounds and re-imagined as battle backgrounds and hear music from the series played throughout the event.
Fan-favorite characters Roxas and Axel will make their debut in FFRK pixel form. In addition, Sora and Riku will return to the game with new Wardrobe Records based on their KINGDOM HEARTS III outfits, giving them a whole new look as they fight alongside memorable heroes from FINAL FANTASY.
In the "KINGDOM HEARTS SERIES" event relic draws, a type of Soul Break that's new to the worldwide version of FFRK called Awakenings debut. The first draw has Awakenings for Sora and Riku, and the second draw has ones for Roxas and Axel. Don't miss them!
The ongoing "KINGDOM HEARTS" event commemorative login bonus and "KH" event release present are made up of items earned from The Keyblade's Chosen web event. On the first day, you can get items such as the 6★ Keyblade "Shooting Star (KH)", and 10 Mythril.
Be sure to check out this collaboration event!
FFRK Dev Team Video #3 is here!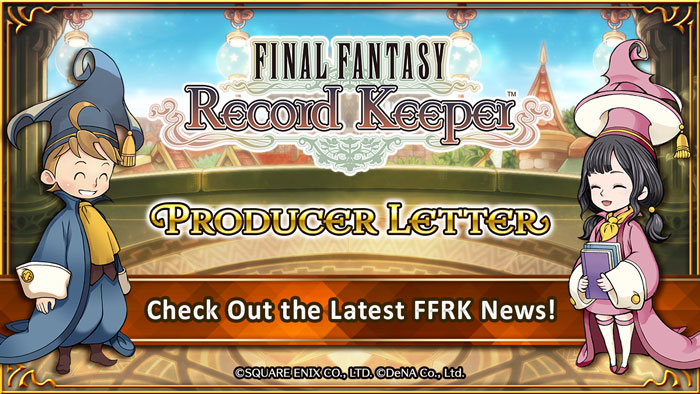 FFRK Producer Letter #3, a video that brings you all the latest FFRK news straight from the producers, has been released!
Check it out here: https://www.youtube.com/watch?v=SMoyIMmT5vc
This time, information on the "KINGDOM HEARTS" collaboration will be revealed! The producers will also answer questions from players in a Q&A corner, and bring you other event news.
Be sure to watch until the end for info on a special gift, too! Enjoy!
Collaboration Event Video is here!
We've released "KH" + FFRK Collaboration Event video, and you can view it here: https://www.youtube.com/watch?v=8VBU9BPvg14
FINAL FANTASY Record Keeper is available as a free download on the App Store for iPhone, iPad and iPod Touch and on Google Play for Android devices.