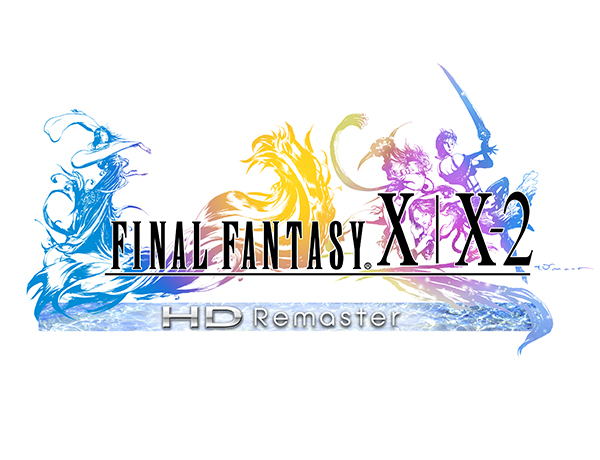 SQUARE ENIX® is joining with Kung Fu Tea to celebrate the upcoming release of FINAL FANTASY® X/X-2 HD Remaster on the Nintendo Switch™ system and Xbox One by launching an exclusive drink inspired by the game.
From March 25 through April 20, Tidus & Yuna's Grape Elixir (A.K.A. Kung Fu Tea's Grape Cream) will be available at all 170+ Kung Fu Tea locations nationwide. Fans who purchase the drink will receive an exclusive sticker, featuring the artwork of famed illustrator Nomura Tetsuya, while supplies last. The Final Fantasy X|X-2-themed beverage is a blend of fresh black grapes and berry jam topped with Kung Fu Tea's best-selling creamy Milk Cap.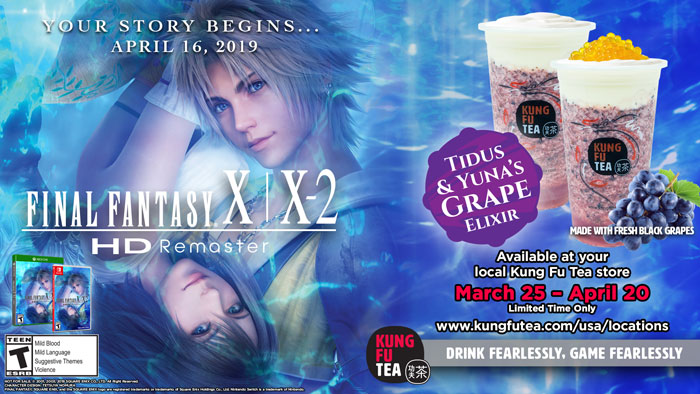 Fans will also have the opportunity to enter into a daily sweepstakes and an add-on giveaway through Kung Fu Tea's official social media channels for a chance to win a digital copy of FINAL FANTASY X/X-2 HD Remaster or a custom-designed Xbox One or Switch console.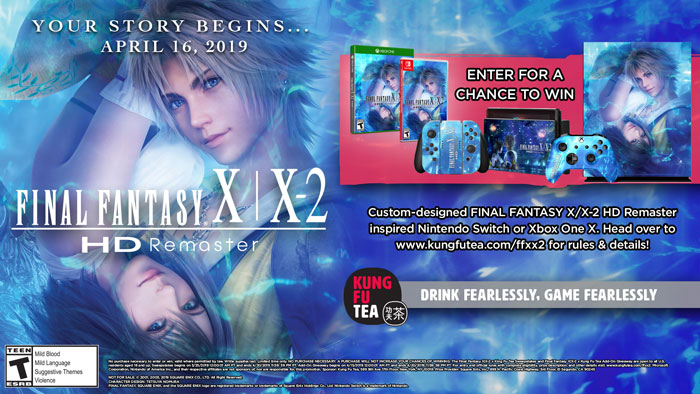 "We're extremely excited to partner up with Square Enix and believe that our Kung Fu Masters in the gaming community will truly enjoy Tidus & Yuna's Grape Elixir," says Mai Shi, Kung Fu Tea's Marketing and PR Lead. "We hope that this drink will keep gamers refreshed throughout their unforgettable journey in the World of Spira and Final Fantasy X | X-2 HD Remaster."
Finally, fans that attend this year's PAX East in Boston from March 28-31 can visit the SQUARE ENIX booth #11017 to obtain a limited quantity promotional flyer that can be redeemed at Kung Fu Tea locations in Massachusetts for a discount on the themed beverage during this time.
For more information on the collaboration, sweepstakes and giveaway, visit: www.kungfutea.com/ffxx2.
About FINAL FANTASY X/X-2 HD Remaster
Making its debut on the Nintendo Switch system and Xbox One on April 16, FINAL FANTASY X/X-2 HD Remaster contains both FINAL FANTASY X and its sequel FINAL FANTASY X-2, both renowned for their emotional stories and stunning graphical quality. FINAL FANTASY X follows the story of Tidus, a star blitzball player whose fate intertwines with Yuna, a beautiful summoner, as they embark on a pilgrimage to save the world of Spira from the endless cycle of destruction brought on by the mysterious being known as Sin. FINAL FANTASY X-2 takes place two years after the events of FINAL FANTASY X, following the stories of Yuna, Rikku and Paine in their adventures as sphere hunters during the long-awaited Eternal Calm.
About Kung Fu Tea
Founded in Queens, NY on April 30, 2010, Kung Fu Tea is a made-to-order beverage chain with over 200 locations across the U.S. and several in Canada, Vietnam, and Australia. At Kung Fu Tea, each beverage is freshly handcrafted with authentic, high-quality ingredients. The brand's founders, baristas, and customers are Kung Fu Masters—passionate, dedicated, and fearless in changing the face of the beverage industry. In 2018, Kung Fu Tea founded the world's first National Bubble Tea Day, taking a huge step toward spreading the bubble tea culture around the world. Visit www.kungfutea.com to learn more.