The Keepers' Battle Quiz - FFT Ver. - is now open!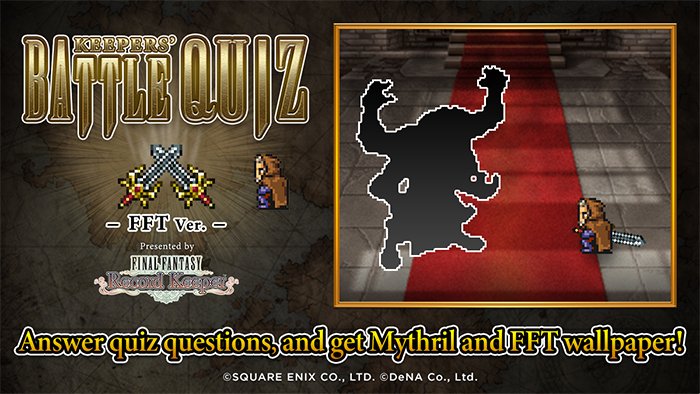 Engage in battles by answering questions about FINAL FANTASY TACTICS, FINAL FANTASY, and FINAL FANTASY Record Keeper!
Take down the enemies by answering trivia questions! If you answer six questions correctly and defeat two enemies, you'll receive an FFRK exclusive wallpaper featuring FFT as a prize.
The wallpaper will be updated at 6:00 PM 5/22 PST.
Please make sure to get the current design before then.
The more points earned by all participants, the more in-game rewards you can receive. The quiz ends at 5:59 PM 5/23 PST.
Work together with Keepers around the world to achieve the highest score!
Rewards
1st Milestone: 5 Souls of a Hero
2nd Milestone: 5 Mythril
3rd Milestone: 5 Giant Adamantite
See the quiz site for details on necessary points for milestones.
Players will receive the rewards for all milestones reached.
#FFRKquiz
Access the quiz site here:
https://www.finalfantasyrecordkeeper.com/cpn/fft/?utm_source=sqex&utm_campaign=ww
FINAL FANTASY Record Keeper is available as a free download on the App Store for iPhone, iPad and iPod Touch and on Google Play for Android devices.