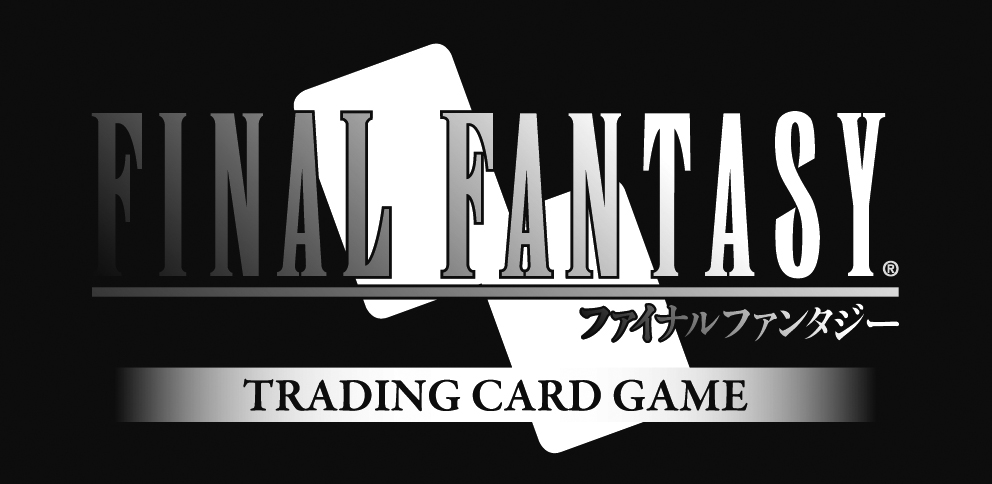 FINAL FANTASY XV Themed Starter Set Also Available
SQUARE ENIX® announced that the newest booster set in the popular FINAL FANTASY® TRADING CARD GAME ("FFTCG"), titled Resurgence of Power, is now available for purchase in North America. The Resurgence of Power set includes the return of popular Legacy Cards previously released from FINAL FANTASY VII, featured as alternate art versions with illustrations by Yoshitaka Amano. The set also features a Special rarity version of Yuffie [18-050L], a Full Art Foil version which includes a foil stamp of Tetsuya Nomura's autograph.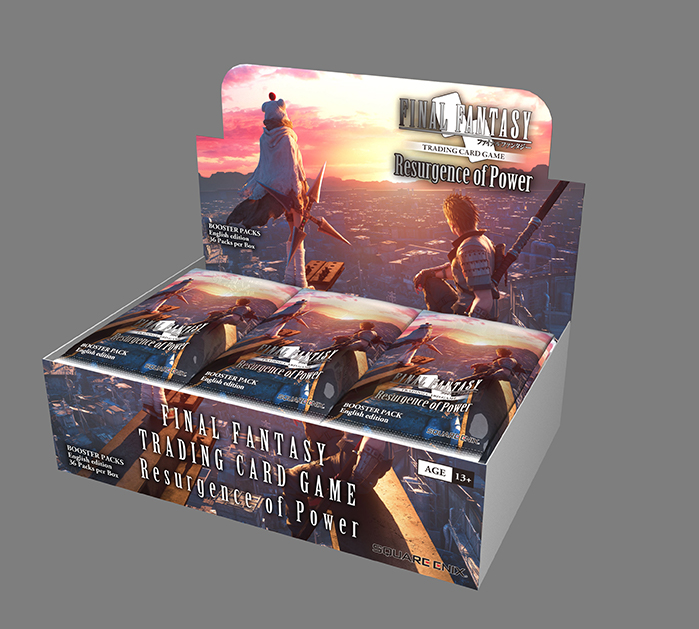 Resurgence of Power showcases brand-new artwork and original illustrations from renowned FINAL FANTASY artists, including:
Ryoma Ito (

FINAL FANTASY XII REVENANT WINGS

)
Yasuhisa Izumisawa (

WORLD OF FINAL FANTASY

)
Yukihiro Kajimoto (

FINAL FANTASY V

)
Gen Kobayashi (

FINAL FANTASY III

)
Yusuke Naora (

DISSIDIA FINAL FANTASY

)
Toshitaka Matsuda (

FINAL FANTASY III

/

FINAL FANTASY XI

)
Fumio Minagawa (

FINAL FANTASY XI

)
Miki Yamashita (

FINAL FANTASY V

)
KINSHA creations co., ltd (

FINAL FANTASY VIII

)
Resurgence of Power introduces three new "Legacy Cards" that are Premium Full Art versions of highly sought-after cards from previously released sets, as well as one "Special Card" with an autograph foil stamp from Tetsuya Nomura:
Aerith [8-049L]
Sephiroth [11-130L]
Cloud [11-136S]
Yuffie [18-050L] Special Card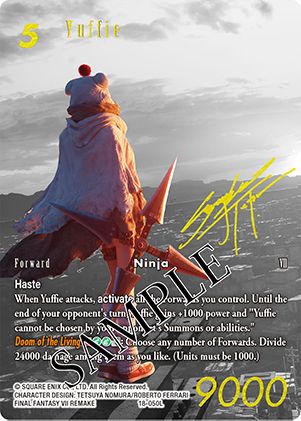 The launch of Resurgence of Power follows the recent FFTCG release of the Two Player Starter Set Noctis vs Ardyn. The set features two 50-card preconstructed decks created around the theme of FINAL FANTASY XV, and is a starter set that allows two players to jump into a match straight out of the box. The Wind/Earth Noctis deck and the Fire/Lightning Ardyn deck are both designed so that two players can use them to start a match right away, and so that they can even be enjoyed by beginners of FFTCG. Additionally, each deck includes five different kinds of new Starter cards, each with three copies, for a total of 30 Starter cards across the two decks.