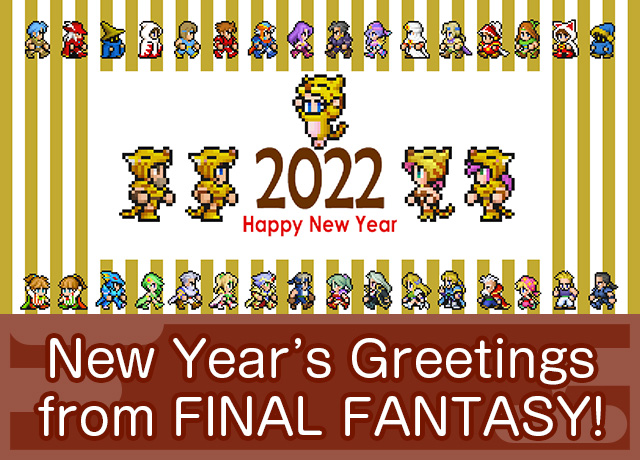 Happy New Year!!
From all the FINAL FANTASY staff, we hope 2022 brings you much joy and fulfillment. We'd like to present an illustration to celebrate the start of the new year and greetings from some of the creators of FINAL FANTASY!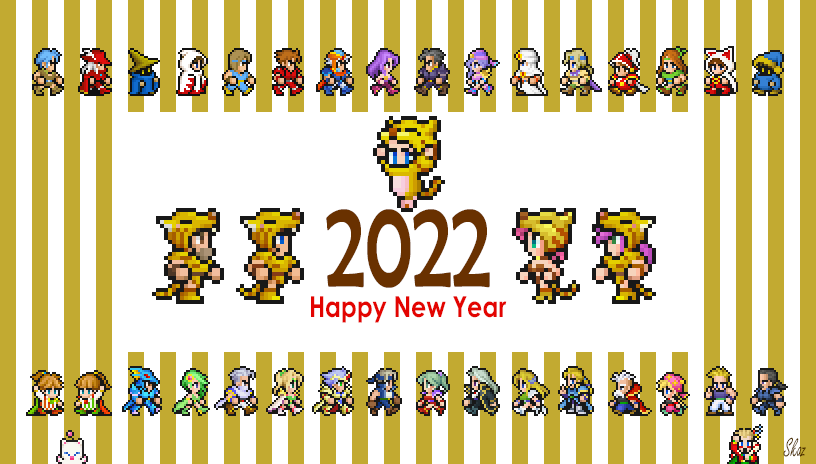 Illustration: Kazuko Shibuya
-----------------------------
Happy New Year!
It seems this long period of having to hold back is starting to calm down and brighter days may finally be making their return.
This year marks FINAL FANTASY's 35th anniversary, and we're thinking up all kinds of ideas to bring you new titles and project announcements that we think you'll enjoy.
I hope to make 2022 a year full of surprises and fun, so please to look forward to what FINAL FANTASY has in store this year as well.
FINAL FANTASY VII REMAKE Producer
Yoshinori Kitase
-----------------------------
Happy New Year, everyone!
......And now that I have that out of the way, to begin, I'd like to apologize for all the trouble we've caused you with continued congestion in FFXIV. With the addition of the new chapter in the game's story, we're working at full power toward core solutions to things like adding new logical data centers and worlds. FFXVI is also facing delays due to the effects of COVID-19, but we've finally reached a point where we can crank the gear up on development to work toward releasing the game. Please look forward to what we have on the way for each FF title!!
FINAL FANTASY XIV Producer and Director
FINAL FANTASY XVI Producer
Naoki Yoshida
-----------------------------
Happy New Year! This is Ichiro Hazama.

Lately I've been spending whatever free time I can find trying out the currently under-development STRANGER OF PARADISE FINAL FANTASY ORIGIN (releasing March 18, 2022)!
It's always a little hectic during the end-of-year holidays, but let's be honest, this year and next year are both connected anyway. I've decided to just do my work next year. It'll be the series' 35th anniversary, after all.
And so, going back to FF ORIGIN. It may seem like one of those games where you die over and over, but that's not exactly the case.
Memorizing the enemy's movements is also important, but if you tackle things after leveling up it gets a smidge easier to push your way through. Let's just say there are a lot of ways to enjoy this game.
It's a shame there's nobody online (of course there isn't) so I can't do multiplayer, but hey, when it's released I'll be picking up the PS4 version myself, so when that time comes, please join me in the online play!

And there you have it, my excuse for sabotaging things and an invitation to fight together!
As for the comings and goings of FF, read the other creators' comments.
This will probably get me in trouble with Mr. Kitase or somebody, but either way I'm looking forward to providing new contents for all of you this year.
FINAL FANTASY Record Keeper Producer
Ichiro Hazama
-----------------------------
Happy New Year!
We have you, the fans, to thank for this last year.
It's because of you that FINAL FANTASY BRAVE EXVIUS has now successfully reached its 7th year, with WAR OF THE VISIONS entering its 3rd year as well.
Thank you so much for always supporting the FFBE series!

My personal motto is "change brings growth," and I'd like to keep that in mind as I continue working to make even better games, never forgetting where I started and consistently moving forward in the coming year.

Please look forward to what this year will bring.
FFBE Series Producer
Kei Hirono
-----------------------------
We hope you'll continue to enjoy both the FINAL FANTASY series and the FINAL FANTASY Portal app and site this year as well!
© 2022 SQUARE ENIX CO., LTD. All Rights Reserved.
Illustration: Shibuya Kazuko