The FINAL FANTASY TRADING CARD GAME (FFTCG) is a global hit. With Opus VIII slated to be released on March 22, we'll be introducing two cards from the set in an FF Portal exclusive sneak peek.
A sneak peek at Opus VIII
Sherlotta [8-053H]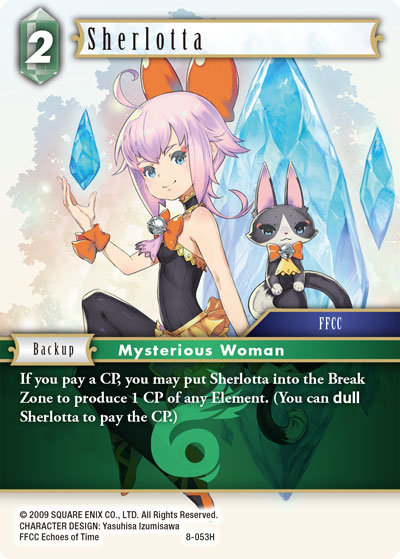 Check out our FFTCG blog for clarification on the card's English text: http://bit.ly/2tzgx3f
[Comment from Producer Taro Kageyama]
This is Mr. Yasuhisa Izumisawa's first time providing illustrations for FFTCG. One of the two cards we'll be introducing is Sherlotta, a rather important character from FINAL FANTASY CRYSTAL CHRONICLES: Echoes of Time who watches over the protagonist, though I won't go into detail about her abilities or existence. If you have the chance, please play the game and immerse yourself in the unique world of FFCC while uncovering the story's mysteries for yourselves.
As for the card's abilities in FFTCG, they're similar to hers from the game in the sense that they're also very exceptional. There are over a thousand cards including the new Opus VIII, but no others have abilities even remotely similar to those of Sherlotta [8-053H]. She's that special. As for her ability, when using CP to play a character onto the field or to use an ability, placing Sherlotta in the break zone will produce extra CP.
It may not seem like a grand ability at first glance, but I assure you, it is powerful. Anyone who's played FFTCG at one time has thought, "If only I had one more CP!" Since the CP can be of any element, it's a lifesaver in situations where you're playing with a multiple-element deck and you're left with a disproportionate amount of a single element. The fact that you can even place it in the break zone yourself can be helpful in many situations.
You can experience the world of FFCC through the illustration and utilize the card's ability for an edge in the game. Sherlotta [8-053H] is the ideal card.
[Comment from Illustrator Yasuhisa Izumisawa]
I enjoyed drawing her for the first time in ten years, though I also recalled the struggle I went through with the original design and colors. It makes me happy to see Sherlotta in more recent FF titles.
Rufus [8-109L]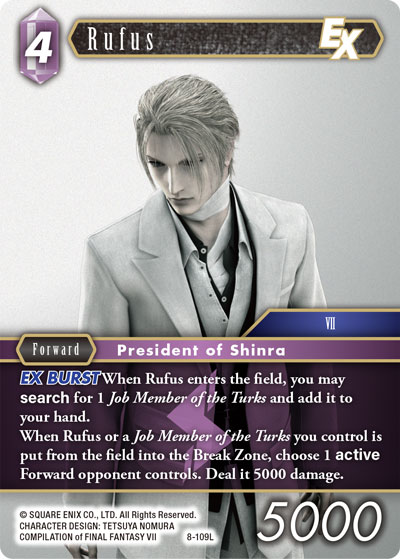 [Comment from Producer Taro Kageyama]
Rufus is the president of the Shinra Company, and my favorite character from FINAL FANTASY VII. He not only appears in FFVII, but also the story's sequel, FINAL FANTASY VII: ADVENT CHILDREN. When he says, "A good son would have known," to Kadaj, not only is it a great line, I was blown away by the irony behind it. He is, in fact, a great character. Without further ado, I'd like to introduce the card depicting a character who holds a special place in my heart.
Rufus has two abilities. The first lets you search for a Job Member of the Turks card when he enters the field. It's as if the president is personally selecting members of the elite Turks to join him. The fact that any member can be summoned opens the door to many possibilities.
The second is a rather aggressive ability. When Rufus himself or a Job Member of the Turks is put from the field into the break zone, he deals 5,000 damage. To put it simply, if Rufus attacks, even if blocked by a Forward with 10,000 power, both cards end up in the break zone. Also, if there happen to be Job Member of the Turks cards in Opus VIII with abilities that are triggered when placed in the break zone, maybe you'll be able to perform some combo moves. Please look forward to the possible strategies. At any rate, I have a feeling Rufus [8-109L] will show up in future tournaments as a formidable card.
What is
FFTCG

?

FFTCG is a one-on-one tactical card game featuring FINAL FANTASY characters and summons. Not only is there fun in collecting cards featuring familiar faces, the main draw of the game is the simplicity of the rules combined with the complexity of the gameplay. The art drawn for the game by famed illustrators is also a popular aspect of FFTCG!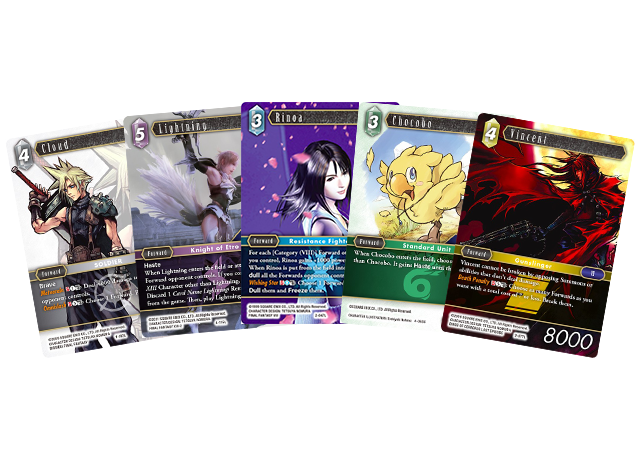 Find the store nearest you carrying FFTCG using our store locator!
https://fftcg.square-enix-games.com/na/page/where-to-buy
Play the FFTCG tutorial:
https://fftcg.square-enix-games.com/na/page/tutorial
Check out the FFTCG Illustration Showcase Interview here:
#1: Toshitaka Matsuda
#2: Ryoma Ito
#3: Toshiyuki Itahana
#4: Roberto Ferrari