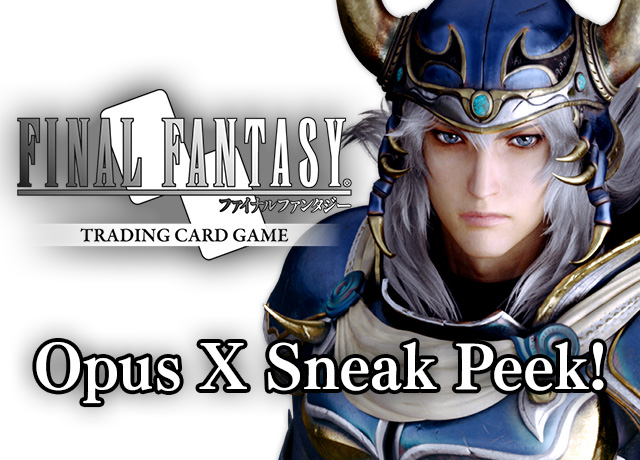 The FINAL FANTASY TRADING CARD GAME (FFTCG) is a global hit. With Opus X slated to be released on November 8, we'll be introducing two new cards from the set in an FF Portal exclusive sneak peek.
Want to learn more? Check out our FFTCG interview.
A sneak peek at Opus X Ancient Champions
Kam'lanaut [10-025R]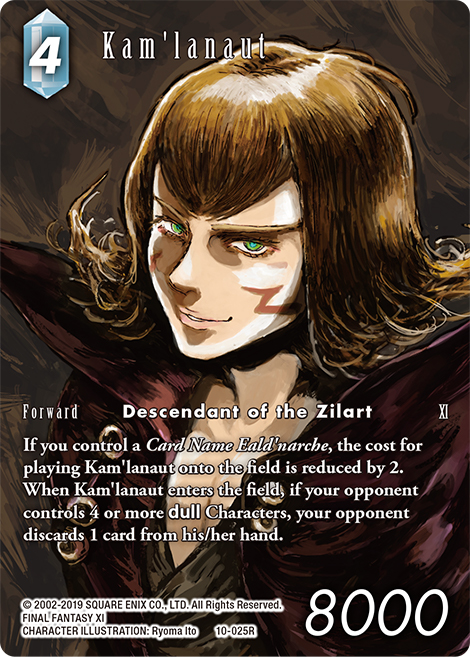 [Comment from Producer Taro Kageyama]
For Kam'lanaut's new card in FFTCG, we turned to Mr. Ryoma Ito, who has provided us with a lot of art for our FINAL FANTASY TACTICS Advance and FINAL FANTASY TACTICS A2: Grimoire of the Rift cards, to bring this FINAL FANTASY XI villain to life. It's a very exciting moment for us, actually, because this marks the first time an FFXI character has received FFTCG-exclusive artwork.
This Kam'lanaut card is a companion to Eald'narche [10-024R] which we debuted at Tokyo Game Show. Mr. Ryoma Ito was in charge of the illustrations for both of these cards, and he really brought his A-game. It's hard to imagine him creating something like this, considering his previous work, but he did an amazing job capturing the spirit of these characters. I'm sure even the most avid FFXI players would agree.
In FFTCG, if Eald'narche is in play, Kam'lanaut [10-025R] can be placed onto the field at a reduced CP cost. Not only that, but once he's on the field, he has the ability to rid your opponent of one card. Granted there are conditions you have to meet before that ability becomes available, but that shouldn't be hard so long as your opponent has a lot of Backups in play. This card encourages careful strategy rather than a full-on assault, which fits Kam'lanaut's cunning and calculating nature to a T.
[Comment from Illustrator Ryoma Ito]
I used to be an avid FFXI player and loved the vibe of the team, so I was thrilled I got the chance to work on Kam'lanaut and Eald'narche's cards in Opus X. There were two reasons why I decided to illustrate the cards the way I did, the first being that Mr. Matsuyama―who oversees FFTCG―asked me to draw them in a style I hadn't utilized before, and the second being I simply wanted to please all the FFXI fans out there. I hope you guys make the most of these cards in your decks!
Aria [10-108R]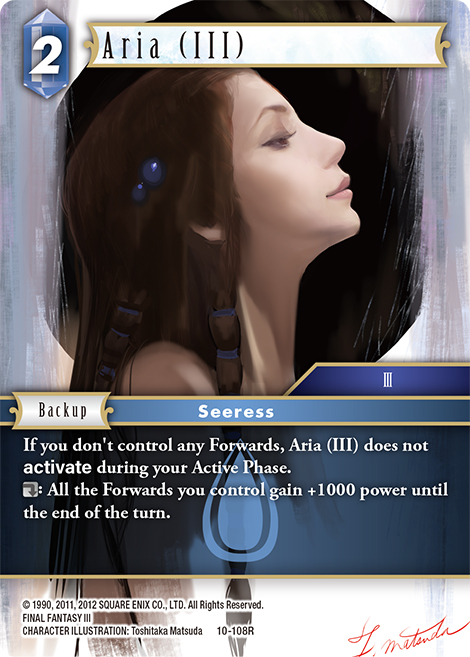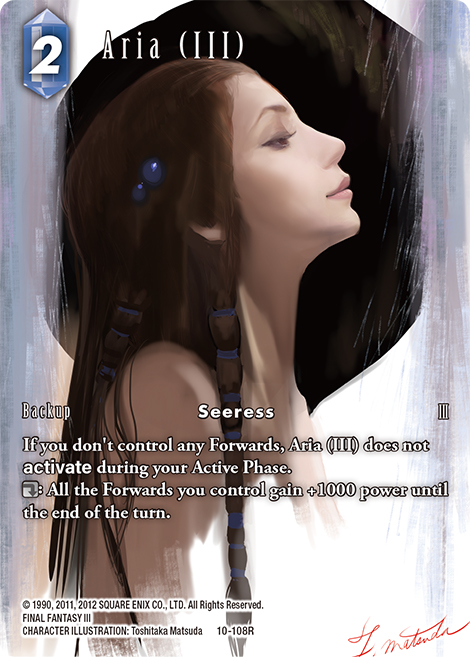 [Comment from Producer Taro Kageyama]
Aria [10-108R] was illustrated by Toshitaka Matsuda, who's contributed many beautiful pieces to FFTCG. This art style is rarely seen in card games, so I was a surprised when I saw the finished product. The composition is quite innovative, as far as the medium goes―it feels like it belongs in a frame! Looking at it makes me realize just how much further we can push artwork in trading card games.
In FINAL FANTASY III, Aria is a priestess of the water crystal who lends her aid to the Warriors of Light. She performs a similar role in FFTCG by providing support as a Backup for the attacking Forwards. Her ability, while being on the simpler side, is actually incredibly effective. Just by dulling her card, all of the Forwards you control receive a temporary 1,000 power boost. Although you have to dull Aria to make use of her ability, its scope is not as limited as other similar cards, like Wakka [1-180R], who only affects Water Forwards, and Maria [1-083R], whose CP cost is staggering.There is one drawback to this card, though: if you don't control any Forwards, Aria won't become Active at the start of your turn. Also, be careful not to play Aria as your only Backup on the field without putting Forwards into play, as she won't even be able to generate CP on the subsequent turn.
These cards are gorgeous as is, but if you want to truly appreciate their beauty, don't forget to check out their premium full art card versions. Both cards will be available in Opus X, coming November 8.
[Comment from Illustrator Toshitaka Matsuda]
I made a bold choice with this illustration. The piece is structured to emphasize her look of enchantment, as though she's listening to the water whisper in her ear. I believe that sometimes it's possible to convey more with less.
What is
FFTCG

?

FFTCG is a one-on-one tactical card game featuring FINAL FANTASY characters and summons. Not only is there fun in collecting cards featuring familiar faces, the main draw of the game is the simplicity of the rules combined with the complexity of the gameplay. The art drawn for the game by famed illustrators is also a popular aspect of FFTCG!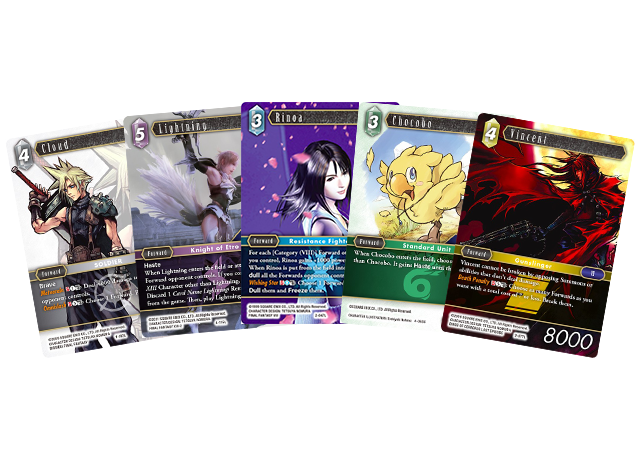 Find out more about FFTCG, including upcoming products and events at:
https://fftcg.square-enix-games.com/na
Play the FFTCG tutorial:
https://sqex.to/FinalFantasyTCG
Check out the FFTCG Illustration Showcase Interview here:
#1: Toshitaka Matsuda
#2: Ryoma Ito
#3: Toshiyuki Itahana
#4: Roberto Ferrari
#5: Kumiko Koike
#6: Akira Oguro
#7: Yasuhisa Izumisawa